About
Us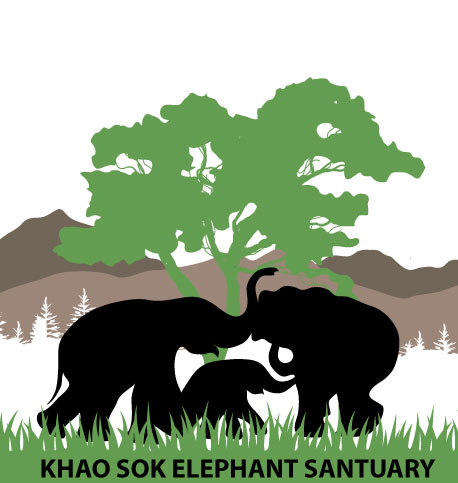 &nbsp&nbsp&nbsp&nbsp&nbsp&nbsp&nbsp&nbsp&nbsp Khao Sok Elephant Sanctuary is a safe haven where our elephants are retired from work, and living in the harmony of the rainforest. We have a few tour options available, and look forward to welcoming you to our little peace of heaven in the beautiful area of Khao Sok. Our elephants live in the shade of the palm trees with our own fresh water river flowing through the property where they can swim and drink. And where you can sit on our swings and enjoy observing the elephants amidst their natural habitat, doing what elephants do. We don't allow bathing, but you will be able to feed and take lots of photos with the eles. Bathing stresses the elephants out, and it is always against their will to be forced into the water for tourists to 'wash' them. The welfare of our animals comes first and foremost, so knowing that they do not like this practice we do not allow it. However, we have many other things you can do on our property, for example:
&nbsp&nbsp&nbsp&nbsp&nbsp&nbsp&nbsp&nbsp&nbsp 🐘 Walking through our large property with our elephants
&nbsp&nbsp&nbsp&nbsp&nbsp&nbsp&nbsp&nbsp&nbsp 🐘 Making food for the eles
&nbsp&nbsp&nbsp&nbsp&nbsp&nbsp&nbsp&nbsp&nbsp 🐘 Making banana leaf plates for you to take home
&nbsp&nbsp&nbsp&nbsp&nbsp&nbsp&nbsp&nbsp&nbsp 🐘 Making traditional Thai deserts for you yourselves to enjoy
We also offer the opportunity of planting seeds to grow grass and banana trees). Planting seeds will depend on the time of the year.
We know that you will enjoy the company of our elephants even more knowing that you are ensuring and participating in the ethical treatment of them.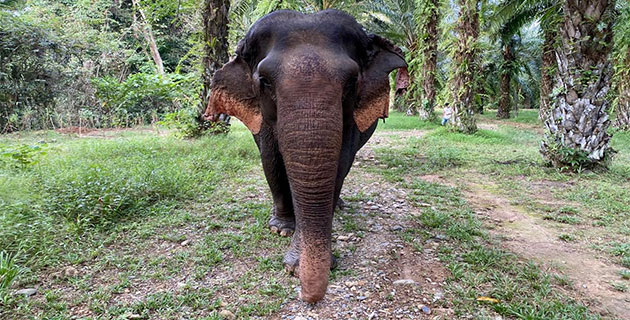 Wassana
Wassana is 44 years old and has been with us for 10 years. She was a former trekking elephant and also was pulling wood in the logging industry, where we believe she tore her ears on the trees. She is so friendly and gentle, and loves when our guests visit and feed her. She had a hard life before we opened the sanctuary, and we are so happy to be able to facilitate her retirement here in Khao Sok Elephant Sanctuary. She awaits your visit.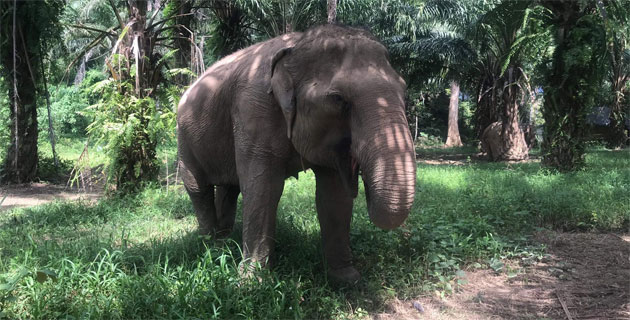 Maruay
Maruay is our newest addition to the herd. She is 40 years old and formerly worked at Fatntasea in Phuket, was a trekking elephant when she got to big to do the shows there, and then during Covid was begging for bananas on the street in her province. She is marked with scars from the abuse of her previous life, and we are delighted to have her here with us now. She had never walked on forest floor before or drank and rolled in a river. She is settling in so well and can't wait to meet you.
Half day - 2,100 baht per person
🐘 Meet our elephants and feed them some bananas
🐘 Listen from our guide on history of elephant tourism and how cruel it can be, this is why we opened sanctuary.
🐘 Make food for elephants at 'Wassanas Kitchen'
🐘 Make Thai banana leaf desert
🐘 Walk with elephants and take photos and learn about each elephant and how they got here, their diet etc.
🐘 Return to visitor center and feed the elephants the food that you made at the beginning of the tour (the rice balls or chopped fruit).
🐘 Vegetarian lunch served for all guests at the end with beverages.
ROUND 1. ⏰ START 8.30 AM
ROUND 2. ⏰ START 01.00 PM

1.5 Hour tour - 1,200 baht per person
🐘 Meet elephants and feed them bananas
🐘 Listen history from our guide of elephant tourism and how cruel it can be, this is why we opened sanctuary.
🐘 Make food for elephants at 'Wassanas Kitchen'
🐘 Walk with the elephants and take photos and learn about each elephant and how they got here, their diet etc
🐘 Return to visitor center and feed the elephants the food that you made at the beginning of the tour.
ROUND 1. ⏰ START 8.30 AM
ROUND 2. ⏰ START 10.30 AM
ROUND 3. ⏰ START 01.00 PM
ROUND 4. ⏰ START 03.00 PM

Evening feed and meet elephants 500 baht - 40 mins
🐘 Meet and feed elephants with banana and/or sugar cane
🐘 Take photos with elephants in front of visitor Centre
🐘 Learn about our elephants from our guides.
⏰ START 04.30 PM

TERMS AND CONDITIONS
** Cancellation policy: Clients cloud do canceled 2 days and full refund (Exclude system fee) before the tour starts **
After payment please contact
Khun Lek
for booking transfer
Facebook Messenger :
m.me/KhaoSokElephantSanctuary
Mobile Phone :
+66 99-491-5463
Email :
elephantkhaosoksanctuary@gmail.com